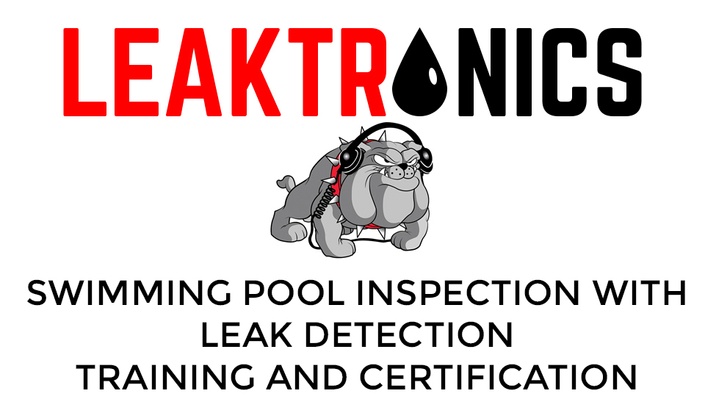 Swimming Pool Inspection with Leak Detection Training and Certification
Learn all technical and business aspects of running a successful Swimming Pool Inspection business.
Enroll in Course
The Swimming Pool Inspection Industry is skyrocketing. The Real Estate and Inspection Market needs this at virtually every real estate closing.

This doesn't exist. We're bringing this necessary process to the marketplace, training and certifying inspectors with the knowledge and the equipment to inspect swimming pools the right way, and to ensure clients that a proper pool inspection has been performed. Visual inspection techniques have cost homeowners literally millions of dollars since the swimming pool was invented. That stops now!
We're writing the rules that meet today's standards and recommendations for proper swimming pool inspections and we're teaching them to you.
The need for proper pool inspections is continuing to grow with every property sold, every insurance claim made and literally every single pool installed. The opportunity to develop your own successful business, and to be the go-to professional in your local area for complete swimming pool inspections is here, now!
Our course will train you in how to inspect and verify the safety and functionality of everything that makes a pool and it's surrounding environment comply with recommended safety standards, and ensure the pool owner that their equipment is thoroughly reviewed for issues that most likely need repair.
Whether you're bringing a new business to your local area or adding inspections to a list of services you already provide, completing this training course will not only set you above any inspector in the field that hasn't taken this course – it will guarantee that you've been given the tools necessary to be the solution people need for getting their pool and pool equipment properly inspected.
LeakTronics online training platform offers in depth Swimming Pool Inspection Training to start your business or to add Swimming Pool Inspections to your list of services! With online training, you can learn on your schedule, from your home or office with no travel required!
Our virtual training platform covers how to use all of equipment included in the complete training package, plus you will also learn professional swimming pool leak detection, customer psychology, key business and marketing techniques and more. Whether you're starting in the industry or growing your business, this course is a complete benefit!
Once you've completed the course, you'll stand out above your competitors and earn top dollar by providing a level of professionalism that most of the inspection industry doesn't. Here are some of the key elements that you can expect from this training:
Get certified your own pace and in your own time. With your access to the learning platform, you can log on and train on a schedule that works for you.

You do it all from home, the office or even at the coffee shop. You don't need to make travel arrangements to learn. The same training you'd get in person is available entirely online.

This course is all encompassing. Along with the in depth training on pools, spas, water features and the equipment that makes it run, you'll have the entire leak detection training course and we'll walk you through recommendations for maintaining current safety requirements on any pool.

You'll learn how to prepare your customer's paperwork to deliver your findings and you'll have our in depth Inspection Checklist to make sure you've covered everything your customer's pool uses to operate properly.

Count on Unlimited Technical Support at no additional charge. If you've got a question about finding a leak, diagnosing a situation you find in the equipment or simply have questions on how to best deliver your services - just call. You're never alone in building your business.

We'll show you our additional add-on components that can enhance your kits and expand your business potential.

Once you're trained, you'll have a listing on our referral website to help potential clients find you in their area. We work to help our trainees get paid.



Your certification training will consist of a series of Modules that contain instructional videos, paperwork downloads and testing segments to help you be sure you've grasped the content. You'll get a deep understanding of what makes a pool function as we take you through each checkpoint on the Inspection Checklist and you'll see examples of inspection failures we've found as we take you through a series of case studies involving pool inspections we've performed.

If you do repair work, we share recommend standard pricing and techniques to turn that inspection into a repair bid that will get you paid.
The Inspection with Leak Detection Certification Training program is taught by LeakTronics founder Darren Merlob, a 30 year veteran of the pool industry. Using the knowledge gained through his decades of practical experience, Darren will teach you how to use all LeakTronics equipment, including the Pro Complete Kit, FLASH Leak Location System and camera technology. You will learn different methods of locating leaks as well as pressure testing and pinpointing leaks along with how to inspect every element of the pool area.

If you are experienced in swimming pools, you will catch on quickly and if you're new to the industry and just getting started, our equipment is easy to learn and the training literally walks you through a first person view of how to inspect everything. If you ever have a question, about the training or on the job, just give us a call.


Certification Course Outline
Introduction Module:
Here we give an introduction to what the course is, what we cover and what you can expect to learn throughout the online training program. You'll see common issues on pools we've found and we'll tell you why these issues need to be noted and the best ways to let the customer know what's right, and what's wrong.
Leak Detection - Module 1 / Best Practices:
In Module one we will be giving you a taste of the leak detection industry, along with helpful tips and tricks from a veteran of the industry.
Leak detection introduction
Customer psychology
10 commandments of leak detection
Taking phone calls
Our equipment vs theirs
Conversions to repair

Leak Detection - Module 2 / The Kit:
In this module Darren will walk you through the components of the Pro Complete Kit, to help you become familiar with your new equipment!
Total walk-thru of our Pro Complete Kit
Labeling components
Use of components
How each piece works in the field

Leak Detection - Module 3 / In the Shell:
In Module three our video will take place at our training pool, where Darren will teach you how to locate leaks within a pool shell, and how to handle structural cracks.
Safety. How to properly use the equipment at a job site and other best practices.
How to find a leak in the shell
Diving and Dye
Static Testing
Structural cracks

Leak Detection - Module 4 / Plumbing:
In this module we will combine location (at a pool) and in-classroom video learning to give you a clear overview of how pool plumbing systems work, and the methods associated with locating leaks within lines.
Pool Plumbing, "What makes it tick?"
How do pool plumbing systems work
Locating leaks within lines
Proper use of the FLASH System
Using camera technology to aid in leak detection

Leak Detection - Module 5 / Case Studies:
In this module we will be providing a comprehensive walkthrough of specific jobs we have worked, and how the knowledge we gained from that experience will aid you in the field.
Cases, descriptions, and photos
Examples of how to handle specific situations you may run into
Photos from our past trainees
Explanation of our technical support
The Inspection Checklist:
In this module we will walk through the entire Inspection Checklist in two videos, covering all aspects of the inspection process and looking at the pool and other bodies of water, the equipment that runs it and the safety of the deck, fencing, barrier and other elements that surround the pool area.
The initial walk-up
The Pool Construction, Cracking and Surface Deformations
Decking and Drainage
The Beam, Coping and Tile
Skimmers, Autofills and Main Drains
Handrails, Diving Boards and Slides, Raised Walls and Safety Issues
Pool Equipment
Electrical Safety
Fencing, Barriers and Pool Covers
Above Ground Pools
Pool Inspection Case Studies:
We'll show you five case studies and the issues we discovered during a thorough inspection as well as recommendations you can give for customer repairs.
5 Case Studies from on the job experiences
Photo and video pieces that explain what we found and how it failed inspection
In depth explanation of what failed, and why it isn't acceptable.
Paperwork Downloads:
Here we will provide you with printable resources to keep you operating.
The Inspection Checklist
Initial Call Questionnaire
Disclaimer / Disclaimer Guide
How to measure sizing for pumps and catch basins
Safety explanations for Handrails and the Virginia Game Baker Act

Business and Marketing:
LeakTronics Marketing Manager, Joe Dolan will walk you through best recommendations for starting your business or implementing Inspections into your list of services with marketing techniques and information to maintain a quality website and networking relationships within the marketplace.
Business and Marketing Recommendations
Understand AdWords and Pay Per Click Marketing
Using Google Analytic
Using Craigslist
It's a Proven Method

Our patented LeakTronics equipment has changed a leak detection market riddled with antiquated equipment that lags in performance and works poorly, costing homeowners and commercial businesses thousands in unnecessary repairs and wasted time. Some of those same tools, unfortunately, are still making their rounds till this very day! Thousands of professionals use LeakTronics equipment and techniques on a daily basis, on real leak detection and inspection jobs of all sizes and scopes, earning top dollar. You will do the same.

Do you already own our equipment? Take the course without the purchase of the equipment for $2400 and learn both Leak Detection and Swimming Pool Inspection, as required to properly inspect a swimming pool.


Copyright & Disclaimer
The Association of Certified Swimming Pool Inspectors (ACSPI) Copyright and Disclaimer Agreement establishes the terms and conditions under which ACSPI will allow you, or, in the case that you represent a corporation or other organization, that corporation or organization, (collectively the "Customer") to access the Certified Pool/Spa Inspector Training Program. This ACSPI Copyright and Disclaimer Agreement consists of the general terms and conditions found below.

By enrolling in or otherwise using the Certified Pool/Spa Inspector Training Program, Customer acknowledges: (1) Customer has read the entire Agreement, including those terms and conditions below; (2) Customer agrees to be bound by the terms and conditions contained in this Agreement, as well as the pricing and policies incorporated by reference; and (3) the person agreeing to be bound by the terms and conditions contained in this Agreement has the authority to bind Customer to the terms and conditions of this Agreement. If customer does not agree with the terms and conditions contained in this agreement, ACSPI is not willing to allow customer access to the training.
The information contained in this Training Program is not a substitute for the maintenance of a swimming pool, spa or water feature. Certified Pool/Spa Inspectors shall be familiar with, and abide by, all pertinent local, state and federal laws, regulations, codes-of-practice, standards of design and operation, and guidelines. The Certified Pool/Spa Inspector shall consult industry publications for current information regarding local code, equipment, legislative changes and liability concerns. It is the responsibility of the Certified Pool/Spa Inspector to be familiar with the commonly accepted practices, as they would apply to the inspections he or she inspects and to have a copy of the appropriate information on file. Several of these references are contained in the Training Program; however, the Certified Pool/Spa Inspector should be aware that these references are under recurring review, and changes may have occurred since the publishing of this program.
The Certified Pool/Spa Inspector Training Program should be only be used in concurrence with the applicable, appropriate laws, regulations, and codes, and not as a replacement for those items. Professionals who use this Training Program should do so in tandem with their own knowledge and experience, and with assistance received from other professionals in the industry. Those with limited knowledge of the spa and pool industry may find this Training Program informative or useful. However, it is strongly recommended that an attorney or other professional with experience in the specific industry-related matters be consulted for advice as to any particular situation. While the Training Program includes many guidelines and recommendations, the Training Program cannot meet every need or address every type or kind of situation. It is anticipated and expected that the user will find it necessary to supplement or revise the information to adapt it to apply to a particular situation. Failure to meet reasonable standards for inspection, as it applies to the safe environment for the public and employees, may result in serious legal consequences, even if the guidelines suggested in this publication have been followed.
TO THE FULLEST EXTENT NOT PROHIBITED BY APPLICABLE LAW, ACSPI, THE AUTHORS AND EDITORS OF THIS PUBLICATION DISCLAIM ALL WARRANTIES, EXPRESS OR IMPLIED, INCLUDING, BUT NOT LIMITED TO, IMPLIED WARRANTIES OF MERCHANTABILITY, ACCURACY AND FITNESS FOR A PARTICULAR PURPOSE. WITHOUT LIMITING THE FOREGOING, ACSPI, THE AUTHORS AND EDITORS DO NOT WARRANT, AND DISCLAIM ANY WARRANTIES, EXPRESS OR IMPLIED, THAT THE INFORMATION CONTAINED HEREIN IS FREE FROM ERROR, APPLIES TO EVERY SITUATION, COMPLIES WITH LOCAL, STATE OR FEDERAL LAWS, OR IS FIT FOR ANY PARTICULAR PURPOSE. Under no circumstances shall ACSPI, the authors or editors be liable for any damages, including direct, incidental, special, consequential or exemplary damages that result from the use of this Training Program or the information contained therein, even if ACSPI, the authors or editors have even advised of the possibility of such damages. This Training Program and the information therein, including these legal notices and terms, shall be governed and interpreted in accordance with he substantive law of the the State of California of the United States of America, without reference to the principles of conflicts of law.
All rights reserved. No portion of this Training Program may be reproduced, copied or utilized in any form or by any means, electronic or mechanical, including photocopying, recording, or by any information storage or retrieval system, without permission in writing from ACSPI. Inquires should be made in writing, addressed to ACSPI, 7921 Canoga Ave. Unit 1 Canoga Park, CA 91304.
Your Instructor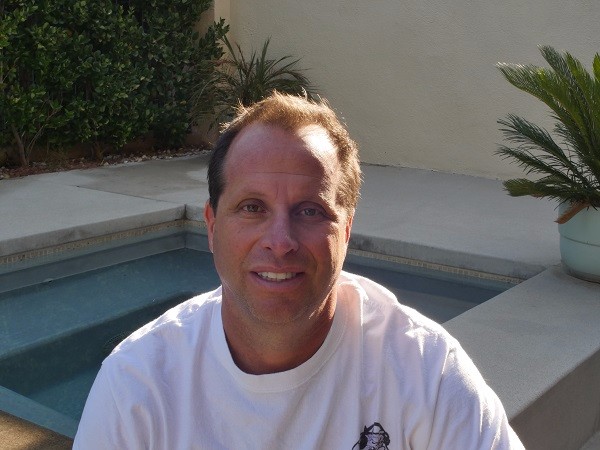 Darren Merlob is the founder and inventor of the LeakTronics and LeakTronics brand equipment. Darren is a pioneer in the swimming pool, plumbing and irrigation leak detection industries with more than three decades of proven success to support his work. LeakTronics was born out of Darren's frustration with outdated leak detection equipment and tools. Darren developed Leaktronics Leak Detection Kit and listening equipment for the swimming pool industry and grew to incorporate the needs of plumbing and irrigation systems contractors.

For more than 10 years, Darren has trained students in the best methods of performing leak detections using the equipment LeakTronics provides and has helped launch thousands of successful leak detection businesses around the world. Darren is also a featured speaker at some of the most recognized and well attended pool related events Nationally and Internationally.
If you have a question that only a professional can answer, ask Darren. He has has seen virtually every equipment set, leak detection and pool repair situation you are experiencing and can give you the answer you are looking for.
Course Curriculum
Inspection Training Introduction
Available in days
days after you enroll
LEAK DETECTION MODULE - 1 - Best Practices
Available in days
days after you enroll
LEAK DETECTION MODULE - 2 - The Pro Complete Kit
Available in days
days after you enroll
Frequently Asked Questions
When does the course start and finish?
The course starts now and never ends! It is a completely self-paced online course - you decide when you start and when you finish.
How long do I have access to the course?
After enrolling, you have unlimited access to this course from a single device of your choosing (computer, tablet, etc.)
How do I get support if I'm on the job?
First call us and we can discuss the issue with you and try to help walk you through it. if necessary, we might ask for a photo or two and we will do all we can to help solve your problem.