The same great training, now more convenient! Train on your schedule, from your home or office, no travel required!

Our new virtual training is all encompassing, yes you will learn how to use our equipment BUT you will also learn valuable techniques to guide you through your leak detections, and business practices. Whether you already have one of our kits and are looking for continue your education, or are starting from scratch, this course has something for you!
These skills will allow you to stand out above your competitors and earn top dollar while being successful in the leak detection industry.
Learn from home, at your own pace. No need to book flights, or a hotel!

This course is all encompassing. Aside from the training in leak detection we will provide you with valuable marketing and business tools- from sample contracts and estimates to website building aids.

Unlimited Technical Support at no additional charge

Already have our equipment? Choose our base-level package to purchase training only!

Additional add-on components for our kits are available

Company listing on our Leak Professional portion of the LeakTronics website
Your training will consist of 6 Modules containing instructional videos, power-points and a few quizzes (only to help you gauge your learning) . These will educate you on a number of topics, from equipment to locating leaks within both pool shells and pool plumbing, and business and marketing practices. We will also be sharing many case-studies from jobs we have worked on, to help you apply what you have learned!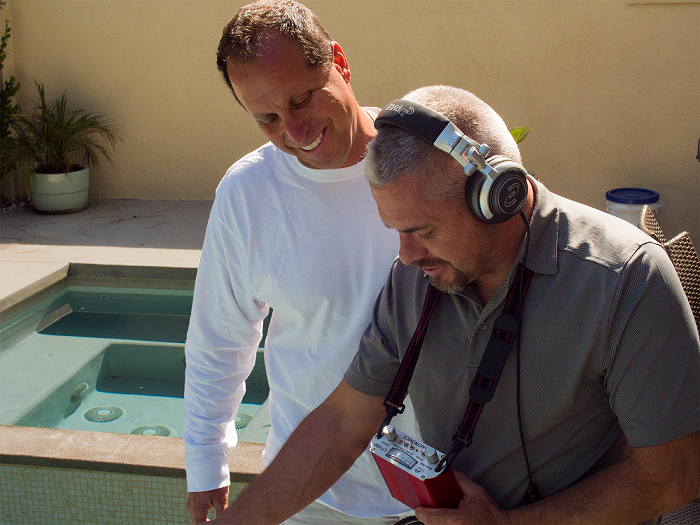 The LeakTronics system uses state of the art technology in components which are user friendly and easy to learn. This program is taught by the inventor of LeakTronics, Darren Merlob, who will teach you how to use all LeakTronics equipment, including the Complete Pro Kit, FLASH Leak Location System and camera technology.
You will learn different methods of locating leaks as well as pressure testing and pinpointing leaks. We have put together a comprehensive training program where you'll master the art of locating leaks.
If you are handy, you will catch on quickly and if you're a novice, our equipment is easy to learn. The mastermind behind LeakTronics, Darren Merlob, has been in the trenches for years and he now wants to teach and pave the way for the next generation of leak detection technicians. After completing our virtual leak detection training, not only will you be able to perform a comprehensive leak detection inspection on your customers pool and spa, you'll also be able to provide a detailed report of your findings for your customer.
---
Course Outline
Introduction Module
Our Introduction module will give you a clear insight into who we are, what we do, and what you are about to learn!
Walk Thru of the shop-where we make equipment.
Quick overview of the Complete Pro (15-10 seconds max)
Powerpoint & voiceover of the course walk through
Module 1 / Best Practices
In Module one we will be giving you a taste of the leak detection industry, along with helpful tips and tricks from a veteran of the industry.
Leak detection introduction
Customer psychology
10 commandments of leak detection
Taking phone calls
Our equipment vs theirs
Conversions to repair
Module 2 / The Kit
In this module Darren will walk you through the components of the Complete Pro Kit, to help you become familiar with your new equipment!
Total walk-thru of our Complete Pro kit
Labeling components
Use of components
How each piece works in the field
Module 3 / In the Shell
In Module three our video will take place at our training pool, where Darren will teach you how to locate leaks within a pool shell, and how to handle structural cracks.
Safety. How to properly use the equipment at a job site and other best practices.
How to find a leak in the shell
Diving and Dye
Static Testing
Structural cracks
Module 4 / Plumbing
In this module we will combine location (at a pool) and in-classroom video learning to give you a clear overview of how pool plumbing systems work, and the methods associated with locating leaks within lines.
Pool Plumbing, "What makes it tick?"
How do pool plumbing systems work
Locating leaks within lines
Proper use of the FLASH System
Using camera technology to aid in leak detection
Module 5 / Case Studies
In this module we will be providing a comprehensive walkthrough of specific jobs we have worked, and how the knowledge we gained from that experience will aid you in the field.
Cases, descriptions, and photos
Examples of how to handle specific situations you may run into
Photos from our past trainees
Explanation of our technical support
Module 6 / Business & Marketing
In this module we will be outlining business and marketing tools that you can use to start your business, or grow your current operation!
Building a Website
Blogging and SEO
Setting up a Business Facebook, Yelp, and other helpful profiles
Using Analytics tools
Advertising
Networking
---
A Proven Method

Our patented LeakTronics equipment changed a leak detection market riddled with antiquated equipment that lagged in performance and worked poorly, costing homeowners and commercial businesses thousands in unnecessary repairs and wasted time. Some of those same tools, unfortunately, are still making their rounds till this very day! Hundreds of leak detection contractors use LeakTronics on a daily basis, on real leak detection jobs of all sizes and scopes, earning top dollar. You can too.

Business and Marketing

Aside from the leak detection training, you will learn business practices and marketing strategies to ensure that your business is set up for success! From sample invoices and call sheets, to web building and advertising, we'll give you the tools!
We'll also provide you with a company listing and a map location on the "Leak Professional" area of our website to give you the visibility boost. We also provide a direct link from our website to yours, to boost your organic ranking on major search engines.
Please check our Leak Specialist Locator to see the expansive network of contractors receiving daily leads from LeakTronics. We provide you with leak detection content & information for your website, as well as product pictures.
Minimal licensing is needed to perform leak detections, check with your state on this.
OutStanding Technical Support
We're in it for the long haul, and know that our trainee's success depends on our support and guidance! When you're in a pinch, we will always do our best to answer your calls and give our expert advice for the tough jobs that you may encounter. Our website is a hub for leak detection knowledge, informative articles, helpful videos, and operating manuals that are available 24/7 from your mobile device or desktop. We are constantly building upon our extensive knowledge-base, adding new tips and techniques, along with troubleshooting information. If you're old-school, and prefer speaking with a human, our technical support team can be reached via email or telephone.
"Great online course! I didn't have time to get to you in California, so I said what the heck and bought the virtual course. Awesome training! Did the course when I had time to fit it in. Great that I can come and go as I please. Love the real case studies too. Excellent equipment is real easy to learn with. Keep up the good work."

Don, Leak Detectives of the SW
"Darren, I can't begin to thank you enough for finally creating a leak detection online course! I've been wanting to get into finding leaks for quite some time and I've been watching your website for quite some time hoping for this. I bought the online course, which I was truly grateful for and was able to take my time and learn at my own pace. I felt confident going on my first call after the course knowing I was able to refer back to my notes for help. I have been finding leaks with no problem. I now feel confident I can make it in the leak detection business."

Dan, Let if Flow Pools
"Thank you Darren for finally putting the online training course together. It is easy to understand on both the technical and business portions. This was the best online class I've ever taken. The marketing and business information will surely help me grow my business."

Tony, Middle Island Pools
"Darren, thank you for making your leak detection course available online. It's priceless. The leak detection process and how to use the equipment was explained in detail. Learning there were different techniques for finding leaks in return lines, skimmer leaks, main drain leaks, etc, helps me beyond belief. Tricks of the trade that took you years to develop was completely worth waiting for. I was able to do this at my convenience at my time at my pace and that alone is invaluable. I was off and running with my first leak detection today and when I needed technical support, your team was right there to walk me through a few questions. Thanks for making your expertise available to all!"

Mike, ME Pools
"Getting into leak detection was a great move for me. I was able to start my own company and go to a part time truck driving job. Thanks to your team."

Jon, BC Leak Detection